7. Urusei Yatsura: The Obstacle Course Swim Meet
6. Ranma 1/2 Akumu! Shunmin Kou
Took these one-off, throwback OVAs to get subbed, but when they did I was finally able to bask in their awesomeness. They're both more of the same when it comes to their respective series, but since Ranma and Lum are two of my all-time favorite comedies, that's more than welcome. That's about all there is to say about these things. If you're one of those heathens that's never gotten into Lum or Ranma, you'll be at a loss. If you dig this shit, they're a welcome return. I'd totally be down with a revival of either series. Especially Ranma.
5. Mnemosyne
Repulsive, grotesque exploitation. Awesome, repulsive, grotesque exploitation. It's more than a little hateful. It's more than a little trashy. It's about immortals screwing around with each other over petty conspiracies and grudges and some fucked up spiritual shit. I love this stuff. It's unforgivably violent and nihilistic. People, especially women, are treated horribly. There's absolutely nothing nice about it. The story's secondary to the sensationalism. It's everything you, dear reader, dread about anime. It's the shit that gave anime a bad reputation back in the 90s. It's kissing cousins with Urotsukidouji. And I fucking dig it. Yeah.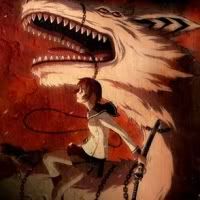 4. Ga-Rei Zero
I've said it before in other posts: Go watch the first episode. That one episode is one of the greatest things ever put in animated form. Seriously. Just go watch it already. The rest of the series is decent, but it's just there to take up time since they can't just air one episode and call it a series.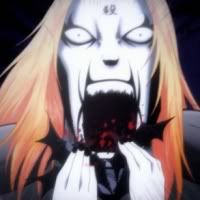 3. Detroit Metal City
Let me say this about DMC: I hate heavy metal. Totally. It's obnoxious. The tough guy posturing and faux-Satanism and "GRRR! RAARRARAR!"ness of it all sucks. Even when I was an obnoxious teenager filled with baseless angst, I hated the shit. And yet I fucking love Detroit Metal City. It's fucking funny. Funny as raping Tokyo Tower funny. So funny that it makes me forget about my loathing of the musical genre in question. So funny that it lets me forgive the series for making fun of a genre of music much closer to my own personal tastes. Yeah, I'd rather listen to his "Swedish pop." Go To DMC!
2. Astro Fighter Sunred
I really love the dynamic between Sunred and Kayoko. It's probably one of the most realistic relationships ever depicted in anime. Sunred's an inconsiderate bum, but he genuinely loves Kayoko. Kayoko's suffers through Sunred's idiocy and supports him financially because she also genuinely loves him. It isn't some fairy tale relationship, where everyone's all doki doki and shit, and it isn't some ridiculous "tsundere" relationship where one character is so insufferable and annoying that it's impossible to believe anyone would put up with their shit. With Sunred we get two flawed people who deal with each other shit because there's some connection there that we outsiders can barely glimpse. Oh yeah, and Sunred's damn funny too. Blahblahblah sentai hero gags and cool monsters that I've already talked about elsewhere.
1. Cobra the Animation: The Psychogun
It might be the weakest Cobra story I've seen, but Psychogun is still the best thing I've seen from 2008. It deals with the Pirate Guild wanting to get a hold of a three billion year old snail whose shell contains the history of the universe, and said history tells the location of a device that contains what amounts to a portable Big Bang. There's three duck people who look a lot like Huey, Dewey, and Louie who craft dimensional space drives. There's worm creatures that eat people and turn their "people juices" into nerve toxins used to turn women into sex slaves. People ride flying vehicles that turn you into a skeleton frozen in Carbonite while piloting it. SAND WHALES. It has all of the awesome details that makes the Cobra series my all-time favorite shit. And it has the return of Crystal Boy. Awesomeness.