When I originally compiled this list, I left out Detroit Metal City because I made some silly "no OVA" rule.
Then Krauser had his way with me and all of that changed.
But DMC didn't quite make it to the top despite all of that. Yeah.
12. Michiko e Hatchin
I wrote about Michiko e Hatchin in this post, and the gist of the series' problems is that it just doesn't quite come together. There's a lot going for it, with its music and action and interesting Latin America/exploitation movie fusion, but all of these elements don't blend into something cohesive. But those individual elements are strong enough on their own to make the series a pretty cool thing. It has a lot of the cool one-off characters like its spiritual predecessors Cowboy Bebop and Samurai Champloo that make each individual episode enjoyable on its own strengths. The main characters have lots of potential, what with them being two strong-headed women (well, woman and young girl) who defy your usual anime stereotypes for the most part. Unfortunately, they don't get to do much beyond run and bicker. That might be the series' biggest flaw: there's a lot of cool things going on around the lead characters, but half the time they're barely involved. They just sort of stumble across things Forrest Gump style, and things get resolved through coincidence and happenstance. But yeah, cool style, cool details, the big picture just isn't quite there.
11. Fireball
It's CGI. It's made by Disney. It's episodes are, like, three minutes long. Despite what some of you may be thinking, yes, Fireball is anime. It's a cartoon. It's made for a Japanese audience. That fits the traditional English definition for "anime." And it's easily the best of the "lasts as long as most anime openings" series out there. It's pretty simplistic, since it comes down to two robots bickering with each other, but it has more wit and charm about it than most series ten times its length, episode-wise. And despite it being a comedy filled with puns and sight gags and shit like that, there's also some really cool undertones. The robots acknowledge that they live in a distant future where humans have died off. They may even be the last two sentient beings on Earth, since no other robots demonstrate any real sentience and nothing outside of their "palace" is ever seen. We may be witnessing the last vestiges of "life" on Earth in the form of a buddy comedy. The sun may be ready to die out any minute in the background, and all of that's just background fluff. That's awesome stuff. Also, Drossel is the best Disney Princess. No contest.
10. Kaiba
I don't pay a lot of attention to anime directors, mainly because most series come of so "samey" when it comes to style and whatnot, but Masaaki Yuasa is one of the few I do care about because his stuff is so distinctive. That said, Kaiba is the weakest of his major projects, but even with that it's a pretty great series. It plays off of a lot of cool transhuman concepts and other sci-fi elements and it hits on a bunch of philosophical shit about identity and whatnot. And the art style is brilliant, what with its old school cartoon vibe. That style matches the themes of the series perfectly, since the "toon" look makes everything that much more alien and foreign. It's a shame the ending pretty much sucks and brings the series down from genuine brilliance to being merely "really cool." Still worth watching, even if it isn't as great as Mind Game or Kemonozume.
9. Ryoko's Case Files
Ryoko's Case Files reminds me of The X-Files. You have two law enforcement officers investigating oddball cases. You have the sexual tension between said characters. You have some of the same humor running through both series. The main difference is that Ryoko is something of a "perfect" character, being your "smart and sexy and an asskicker and…" type. But she manages to be more like someone like Cobra than some bland, generic, annoying type since she's brash and hotheaded at the same time. She can do all of this shit, but most people find her a bit irritating and unbearable. And she's pretty cool for that. And there's plenty of weird stuff going on in the series as well, making the whole thing a hell of a lot of fun. It's one of those "forgotten" series that doesn't deserve being stuffed under the rug.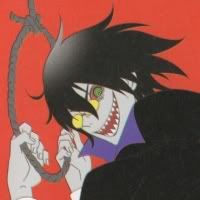 8. Zoku Sayonara Zetsubou-Sensei
Is it the same old Zetsubou shit? Yep, pretty much. Is the same old Zetsubou shit superior to most anime comedies? Yep, pretty much.